Why Are Pizza Trailers So Popular?
Deciding what type of food trailer business can be a daunting decision sometimes.  But opening a pizza food trailer business is a no-brainer.
Why Pizza?
First, let's start with the star of the show – pizza.  A pizza business offers a variety of benefits to business owners who are either just starting out or are ready to change things up.
The ingredients are easy to buy year-round, and a new food trailer business owner can choose to shop at a local wholesale club or source them locally for the organic fanfare.  They can be as simple as cheese with up to five extra toppings or can allow an entrepreneur's culinary creativity to inspire their customers' taste buds.  With so many styles and variations of pizza, one can easily choose what works best for their food trailer's concept. In addition to the regular savory pizza pie, menus can include calzones, dessert pizza items1 and, yes, even breakfast pizza for the early morning food sales boost.
Marketing a pizza business is easier than most other food business concepts.  This is simply because people already understand the concept as soon as they hear the word 'pizza', so they won't ask "what is this?" when they see a pizza trailer.  Lastly, pizza is perfect for all ages and for all occasions. (Psst! Here's are some gems from Brides.com and Martha Stuart Weddings to give you great ideas on how you can be invited to cater local wedding ceremonies and even be the hit of the event).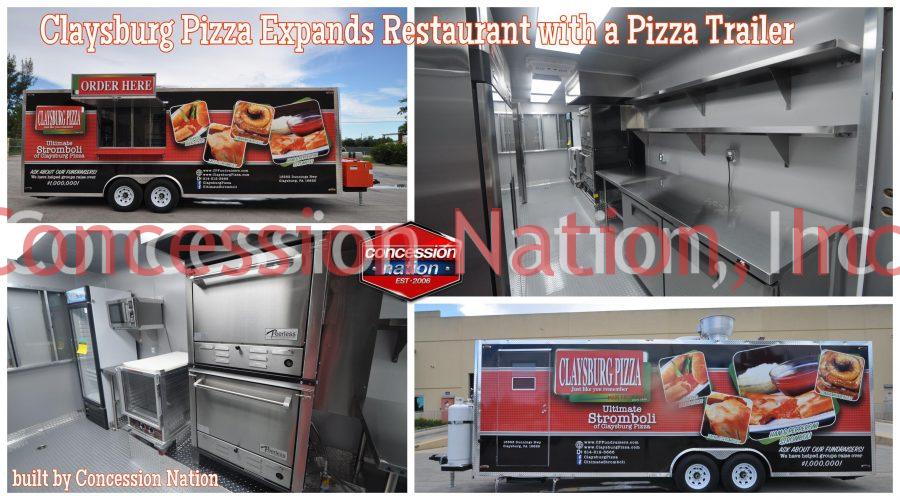 Pizza Trailers for Existing Pizzerias Have Become the Rage
Existing pizza restaurants have discovered the benefits of adding on a food trailer to their business. They can expand their reach by going out into the surrounding communities and connecting with people who may have, otherwise, ordered from a closer shop.
Bruce Jackson, owner of Brucci's Pizza, says "To open another brick-and-mortar and not have them overlap in business, you typically need to go to an entirely different area of the city." 1
Pizza trailers allow restaurants to go beyond a couple of delivery guys showing up with the food in heated bags for local school events and recreational parks.  With a pizza trailer, the pizzeria is now bringing an added experience with freshly made food.
Tim Younghans, owner of Mama Napoli Pizza, a food truck operation in Las Vegas says, "A food truck can bring the wow factor."
Pizza Trailers as a Stand-Alone Business
Just like the existing pizzerias are benefiting from food trailers, people who are ready to leave the 9-5 grind, families who want to work together and culinary school graduates are all opting for food trailers "as" their full-time business.
Let's set aside the obvious reasons of how much more affordable these trailers are for a start-up business.  There are other factors that make owning a pizza trailer business a great option.
They are mobile
Family pizza recipes can make a trailer stand out
Pizza is grab-and-go food for customers
Pizza trailers are family-friendly, sports arena-friendly and great for after-hours club spots
Owning a pizza trailer has full control over creativity and deciding best hours to serve
Culinary graduates can jump into a mobile catering business serving up casual to gourmet pizzas at any local event.
Food trailers as a business and for an existing business have been proving their sustainability since the days of the covered wagons. Pizza trailers gives entrepreneurs an already loved food concept a wide range of options for serving up profits.
Concession Nation is committed to helping you succeed even before your food trailer is ready to hit the streets. Contact us today to set up an appointment—let us put our experience and passion to work for you.
1 https://roaminghunger.com/blog/6652/italian-for-dessert-5-pizzas-to-satisfy-your-sweet-tooth
2 http://www.pmq.com/November-2014/Get-your-motor-running-by-starting-your-own-food-truck-or-mobile-kitchen-business/