FOOD TRUCK LP GAS PROPANE SAFETY & TIPS
Concession Nation uses a third party licensed gas qualifier to install propane equipment and to certify propane equipment work. This ensures peace of mind and safety, knowing that your food truck or food trailer is free of gas leaks and you have operational propane equipment. Professional certification is provided to all of our customers.
Recommendations:
We highly recommend customers learn how detect LP gas odor and what to do in case of emergency a gas leak emergency.
Any future replacements, repairs and/or additions for your gas and food truck equipment should only be installed and serviced by a licensed gas qualifier.
Filling/replacement of LP gas (propane) tanks should only be done by a licensed filling station or dealer.
We highly recommend scheduling a Gas Safety Course by a licensed gas Qualifier to personally guide you through proper operating and safety procedures for the gas equipment installed on your truck or trailer. Call us to learn how you may schedule a Gas Safety Class when you come to perform your walk through once your food trailer or food truck is ready.
Food Truck LP Propane Tank Must Know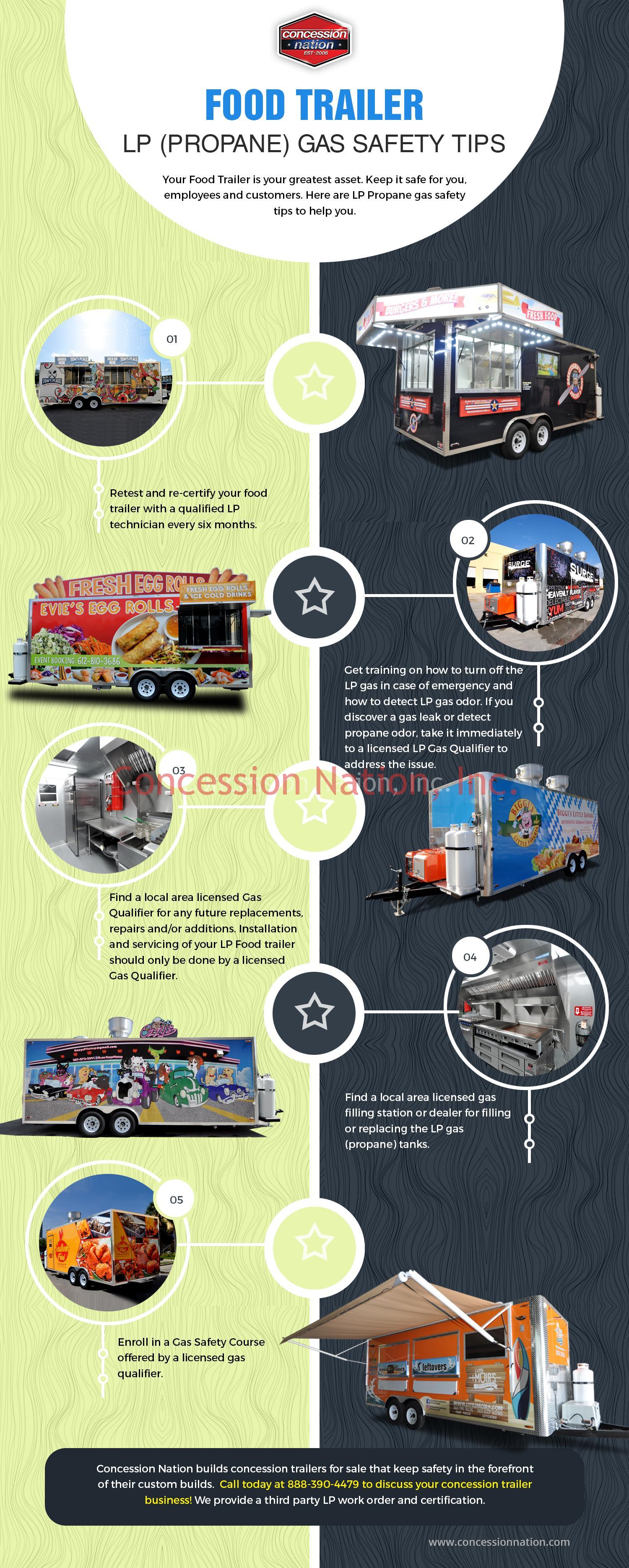 Food Trailer LP (Propane) Gas Safety Tips
Your food trailer is your greatest asset.  Keep it safe for you, employees and customers.  Here are LP Propane gas safety tips to help you.
Retest and re-certify your food trailer with a qualified technician every six months.
Get training on how to turn off the LP gas in case of emergency and how to detect LP gas odor. If you discover a gas leak or detect propane odor, take it immediately to a licensed LP Gas Qualifier to address the issues.
Find a local area licensed Gas Qualifier for any future replacements, repairs and/or additions. Installation and servicing of your LP Food trailer should only be done by a licensed Gas Qualifier.
Find a local area licensed gas filling station or dealer for filling or replacing the LP gas (propane) tanks.
Enroll in a Gas Safety Course offered by a licensed gas qualifier
Concession Nation builds concession trailers for sale that keep safety in the forefront of their custom builds.  Call today at 888-390-4479 to discuss your concession trailer business! We provide a third party LP work order and certification.
Summary:
Because propane tanks are easy to use and cost-friendly, they are the commonly used source of fuel of concession trailers and food trucks.  As any fuel source, there are precautions that should be taken to keep your business, employees and customers safe.  Whether you buy a concession trailer for sale or custom build it, you need to always think safety first with LP Gas (propane).
Concession Nation has expertly designed food trucks and concession trailers for a variety of businesses.  Let us design your food truck. Call us at 888-390-4479