With startup costs for a food truck business being lower than a brick and mortar business and the trend of these mobile cuisine still rising, now is the perfect time for budding entrepreneurs to get started on owning their own food truck business.
What are the necessary steps for starting a successful food truck business?
Concession Nation has created many custom food trucks for new business owners.  Over the years, we have compiled the following list to help new entrepreneurs get a good start on their new business venture.
1. Research
Before starting any big endeavor, a good amount of research should be done to equip you with all the knowledge to give you a solid foundation. This article is a great starting point. However, here are some other areas of owning a food truck business you should research.
Target Audience – who are is your ideal customer?
Local Competition – what type of cuisine is already being served in your area from other food trucks and similar established restaurants? What are their marketing strategies and location habits?
Local & State Regulations – what do you need to have to be legal in your area and state?
Serving Opportunities – what catering, local events or other opportunities are in your area for serving customers?
2. Decisions & Planning
Now that you have done in-depth research about your who you're serving, who's your competition, what are regulations and what are your business opportunities, your excitement is rising. You're ready to jump in and get to work.  The first action item is to make some decisions and get a success plan – business plan – in place.
Decisions:
What is your food truck business' name?
What kind of food are you serving?
What would be your working schedule? Are you serving breakfast & lunch only, all day or after hours? Are you working weekdays / weekends?
 Business Plan:
You can look online for business plan templates. But they should include:
Business Description. This includes describing the food truck industry, your truck's theme and food, how your business will compare to other food service businesses, like restaurants.
Market Analysis. This gives a description of other competitors, why there's room for your food truck business and who you'll be serving.
Organization and Management. This is your processes, procedures and delegation flow of the people in your business.
Services and Products. Talk about the food.
Marketing and Sales. What are your intended strategies for promoting your business?
This covers how much money will it cost to start your business and how will you obtain the money.
3. Food Truck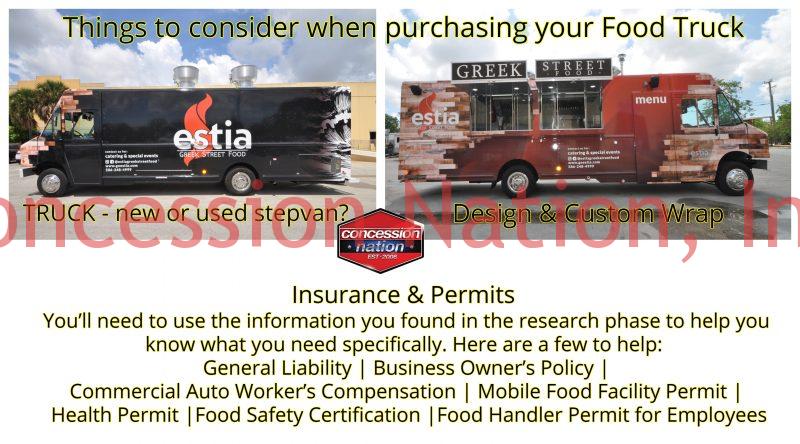 Once you have all your decisions and planning done, you will need the most important purchase for your new mobile food business – the Food Truck.  When it comes to purchasing, food truck prices can vary. Things to consider:
Truck: Will you buy a new stepvan to modify the truck and convert it into a new kitchen? Will you buy a used truck to customize it to build a new kitchen? Either way, you should consider the total cost of the stepvan and remodeling into a food truck, and also the repairs/maintenance on the actual stepvan that you will incur with your choice of new vs. used truck.
Design & Wrap: Your business should have a logo and branded colors – colors you will use on anything related to showcasing your business. You will want to make sure your wrap – the images all around the vehicle – makes your truck easy to spot and identify your food concept quickly.
Insurance & Permits: You'll need to use the information you found in the research phase to help you know what you need specifically.Here are a few to help:

General Liability
Business Owner's Policy
Commercial Auto
Worker's Compensation
Mobile Food Facility Permit
Health Permit
Food Safety Certification
Food Handler Permit for Employees
The food truck business trend is projected to continue rising.  If you're ready to jump into owning your own, then completing the above steps will give you a great foundation for creating success.
Concession Nation is committed to helping you succeed even before you buy your food truck.
Contact us today to set up an appointment—let us put our experience and passion to work for you.