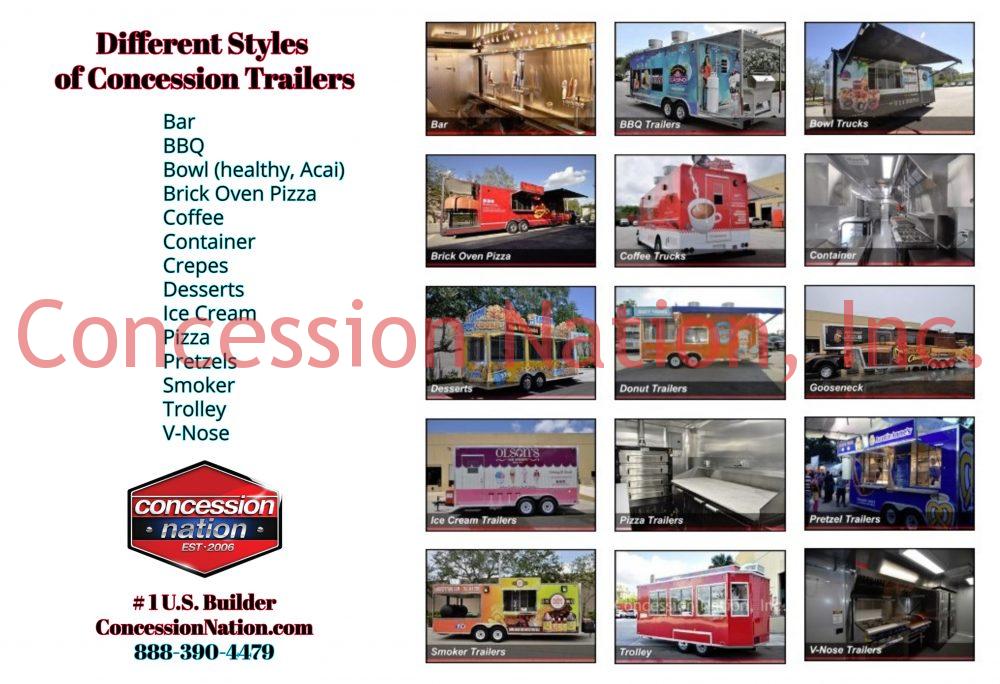 With so many different types of trailers available, there's no limit on what type of food or beverage business you can launch. Here are some variety of concession trailers for sale.
BBQ Trailers
Whether a local fair, an outdoor wedding or the next hog festival, barbecue is being served up everywhere. Your concession barbecue trailer will be a hit for catering events and even daily meal service near local businesses. So, grab your great grandfather's beloved recipe and get your mobile barbecue business going.
Smoker Trailers
Become your own smokehouse on wheels, start your own smoker concession trailer business. They have great profit margins, allow you to cook in volume and make you the pit master of the streets.
Brick Oven Pizza
Nothing draws people in like the smell of pizza baking up in a brick oven. The unique flavor will keep them coming back for more. With the faster cooking times, it will make your favorite artisan pizzas a great business income generator.
Pizza Trailers
Who doesn't love pizza? You're already a hit with this delicious family favorite. From kids to adults, everyone wants to grab a slice. Whether you go gourmet or stay traditional, your trailer can book catering events, local festivals or hangout out near the bars for the after-dark crowd.
Pretzel Trailers
There's nothing better than a big, soft pretzel dipped in mustard. Or is there? Do you have recipes that take the pretzel to a whole new level of flavor? Why not share them with a concession trailer? Pretzel trailers are great for the ballpark or as a meal with a pretzel sandwich.
Bar Trailers
Bring the party to the events. A concession bar trailer is fully equipped to dispense, manage and maintain your preference of alcohol to sell at any location that doesn't have an available bar. Serving beer, wine or specialty drinks – just add a bartender and a server – and your trailer will be the life of the event!
Coffee Trailers
There are twelve different types of coffee and even more ways to flavor them. Whether you focus on the latte, espresso or cappuccino or you opt for unique specialty coffee beans, your coffee concession trailer will be busy waking up your customers daily. That's just good business.
Dessert Trailers
Sweet cravings can be your next business venture. Get creative with pies and baked goods to gourmet delectable that keep them coming back. Have your concession trailer customized to deliver the best of your recipes at the next wedding, festival or at the local park on a weekend.
Donut Trailers
Krispy Kreme and Dunkin Donuts have proven that donuts as a business is deliciously profitable. Why not start your own donut concession trailer business? You can take the donuts to the customers.
Trolleys
These eye-catching mobile kitchens elevate your style at any food truck event. Cold food, hot food or beverage, a food trolley can be equipped to meet your mobile food business needs.
Concession Nation has expertly designed food trucks and
concession trailers for a variety of businesses. Let us design your food truck.
Call us at 888-390-4479