Summary
Are you considering starting a new business around a food truck? Are you thinking about expanding your existing business with a food trailer? The idea of having a food truck business is exciting and fun! But, don't skip doing your homework before you dive in headfirst. Keep in mind that proper planning will help you create a successful business venture. You can use these tips and reminders to create your food truck business success story.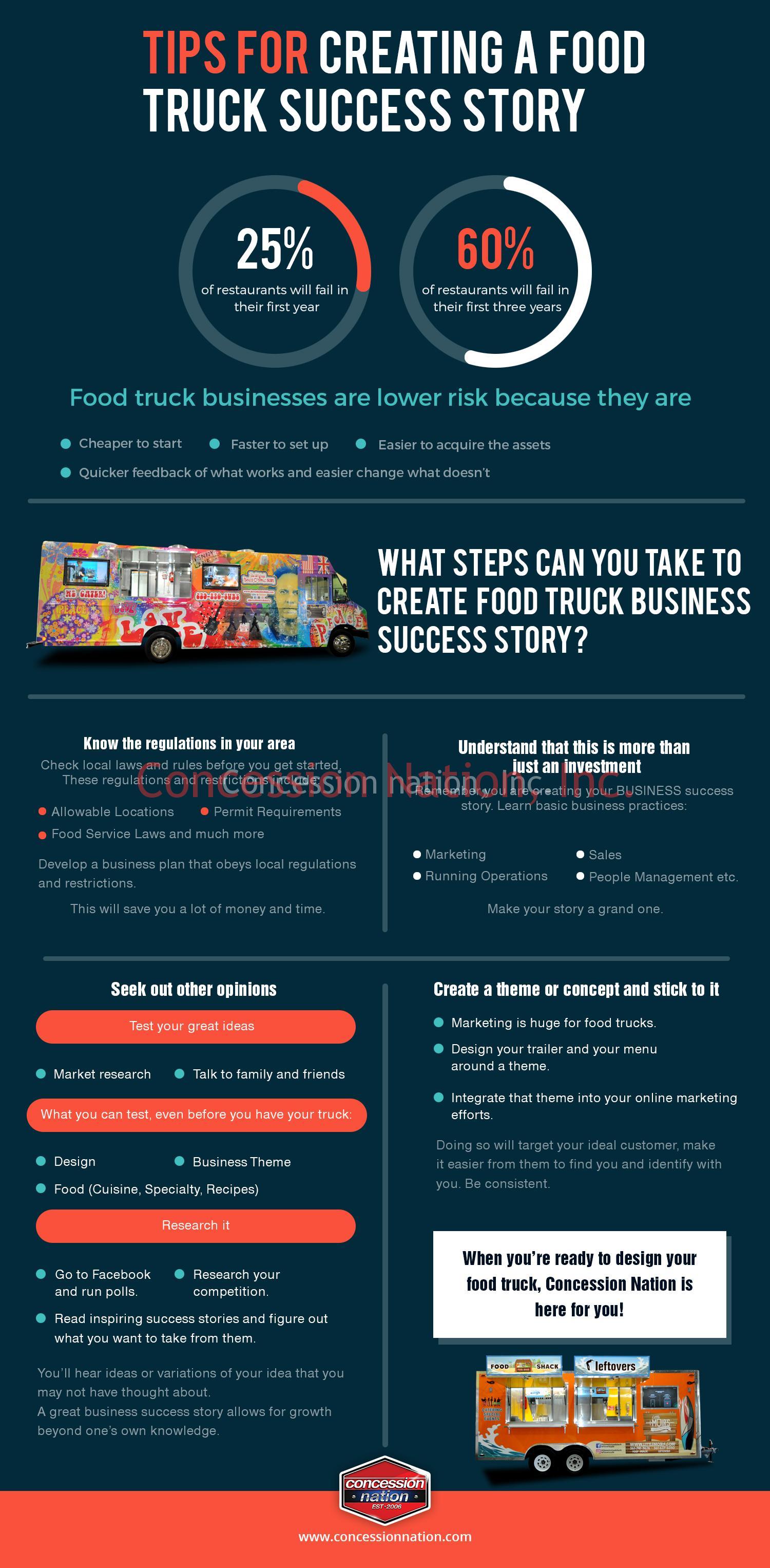 25% of restaurants will fail in their first year 
60% of restaurants will fail in their first three years 
Food truck businesses are lower risk because they are
Cheaper to start

Faster to set up

Easier to acquire the assets

Quicker feedback of what works and easierchange what doesn't

 
What steps can you take to create food truck business success story? 
1.  Know the regulations in your area. 
Check local laws and rules before you get started.  
These regulations and restrictions include:  
Allowable Locations

 

Permit Requirements

 

Food Service Laws 

 

and much more

 
Develop a business plan that obeys local regulations and restrictions.  
This will save you a lot of money and time. 
2. Understand that this is more than just an investment. 
Remember you are creating your BUSINESS success story.   
Learn basic business practices: 
Marketing

 

Sales

 

Running Operations

 

People Management 

etc. 

 
Make your story a grand one. 
3. Seek out other opinions. 
Test your great ideas. 
Market research

 

Talk to family and friends

 
What you can test, even before you have your truck: 
Design

 

Business Theme

 

Food (Cuisine, Specialty, Recipes) 

 
Research it. 
Go to Facebook and run polls. 

 

Research your competition.

Read inspiring success stories and figure out what you want to take from them.

 
You'll hear ideas or variations of your idea that you may not have thought about.   
A great business success story allows for growth beyond one's own knowledge.  
4.  Create a theme or concept and stick to it. 
Marketing is huge for food trucks. 

 

Design your trailer and your menu around a theme. 

 

Integrate that theme into your online marketing efforts.

 

Doing so will target your ideal customer, make it easier from them to find you and identify with you.

 

Be consistent. 

 
When you're ready to design your food truck, Concession Nation is here for you!