Interior Walls Colors
You can choose the style you like for your interior walls, from stainless steel to colorful colors. See pdf brochure for more.
Flooring
Our most common flooring is commercial rubber flooring
You can also choose a starboard flooring which is great for all weather and has lifetime warranty.
Or you can choose diamond plated flooring, which is popular.
Cold Package
You may want to add a cold package, if necessary. It includes two heat blankets for the two water tanks and outside pipes insulation.
Bathroom
Yes, you can include a bathroom inside your mobile kitchen. Make sure you communicate with your salesman to include it in your proposal and your floorplan.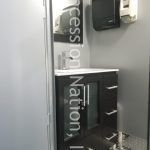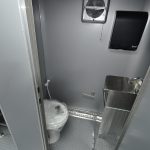 A/C vs. Make-Up Air
While thinking about between having A/C or Make-Up Air you should inform yourself to consider the benefits and disadvantages of each. Also keeping in mind, the usual weather conditions where you will be operating.
The A/C choice works well while you are prepping your food, and the windows & doors are closed, and no cooking equipment is turned on. It is nice to feel a cold breeze, but that will most likely go away once you open the windows & doors, turn on the hood and the cooking equipment. So, if you are operating in a warm weather, you should expect that to happen.
The benefits of make-up air are that the 2,250 CFM pulls outside air into the air at very high pressure to circulate air at all times. It extracts smoke and heat from the kitchen to the outside. If you operate in a warm weather, this could be a disadvantage because when it brings air in, it will be at the current outside temperature.
Interested in a brochure for Interior Custom Options and information on food truck interior layouts? Click here