What do Dollywood, Isle Casino Pompano Park, The Meadows Casino, Ponte Vedra Inn & Club, The Lodge at Suncadia, The Willcox and Xanterra Travel Collection (the largest national and state park concessioner in the United States) have in common? They have all added food trucks and/or food trailers to their business's food service.
Dollywood
If you visit Dollywood and head over to the Jukebox Junction, you will be able to taste for yourself the famous chicken sandwich at their Frannie's Food Truck. This is an ideal spot for eating at a built-in bench overlooking the stream or watch the ducks on the patio of the Red's Drive-In.

Isle Casino Pompano Park
Having a full restaurant on a racetrack just isn't ideal. But hungry spectators need easy and immediate access to food and beverages. Isle Casino Pompano Park solved this problem with their food truck placed track side.

The Meadows Casino
Why use the streets when you can park your food trailer inside your casino? What? Did you read that right? Yes, you did. The Meadows Casino thought it made perfect sense. They located the 18×8-foot trailer, The Band Wagon, next to the Casino's Headliners entertainment lounge.
"We want to appeal to a younger demographic – (age) 30-60 – but once people see it, they will appreciate it," Ari Sobel, food-and-beverage director says. "The menu will change every week with 100-percent, made-from-scratch, locally sourced food items. The emphasis is on high quality and fresh, fun food."
Ponte Vedra Inn & Club
The Barefoot Bistro is Ponte Verdra Inn & Club's poolside food truck. It offers the perfect poolside menu including salads, shared plates, healthy sandwiches, shakes, smoothies and a kids' menu. The location of this food truck is perfectly located between the family pool and the fitness center.
The Lodge at Suncadia
Like Ponte Vedra Inn & Club, The Lodge at Suncadia opted for a food trailer as a solution for their guests who are bathing by the pool or working out. It is located at The Suncadia Club Swim & Fitness Center.
The Willcox
This elegant South Carolina hotel and spa uses their food truck for catered events offsite. Their menu serves everything from New York strips to lamb burgers and spicy fish tacos. Because they only serve fresh, their menu changes seasonally. Having a food truck allows them to cater large or small events up to 3-miles away from their location and if your venue doesn't have a kitchen, no problem. The food truck comes with its own.
Xanterra Travel Collection
Formerly Xanterra Parks and Resorts, Xanterra Travel Collection manages the concessions in our national treasures like Yellowstone National Park (Grand Canyon).
On June 14, 2018, Xanterra debuted the food truck trend to a national park for the first time at The Grand Canyon. The Desert Dogs debut offers the fast-grab dining option for visitors near the shuttle bus hub. Its menu includes drinks, snacks and hot dogs
"Bridget Rabon, executive director of operations for Xanterra, said it's the first time the company has offered a food truck in any of the national parks. Rabon said it was part of the company's bid for the Grand Canyon concessions contract and has been in the works for a while."
Hotels, resorts, casinos and parks (themed and national) all see the value of having a food truck and/or a food trailer as a solution to catering, place food options in locations where they have no available kitchen and for convenience to have for the grab-and-go food needs of visitors.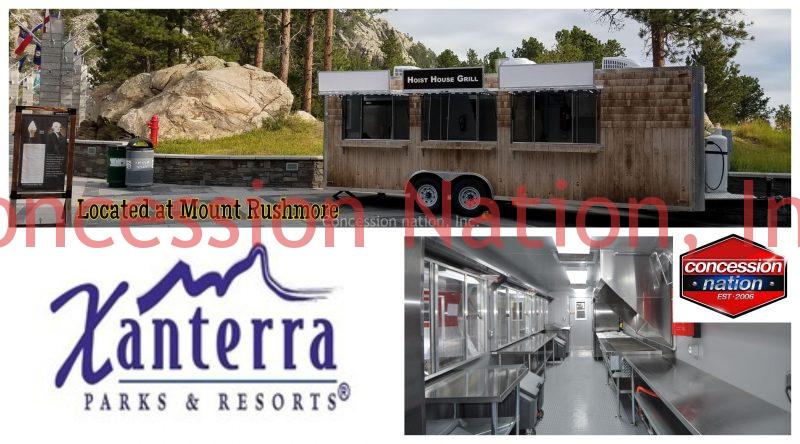 Concession Nation has expertly designed food trucks and
concession trailers for a variety of businesses. Let us design your food truck.
Call us at 888-390-4479