Franchising a business can provide expansion capital. Additionally, offering a 'business in a box' to motivated entrepreneurs is the best way to grow and grow fast. While the franchise builds, revenue can increase by learning from other franchises how to offer and promote mobile food trucks and trailers as an add-on service.
Franchises That Expanded with The Food Trucks & Trailers
Charley's Philly Steaks opened in 1986, started franchising in 1991 and celebrated its 600th location opening in December 2018. They can be found 46 states and in 17 countries.
"Charley Shin, the chain's chief executive, says that, of the 600 locations, about 420 or so are currently in malls. About another 100 are military locations and, by summer, 70–80 will be housed in strip centers."
In addition to the extensive brick and mortar locations, Charley's also has expanded to using food trucks and trailers. Concession Nation had the honor to build them a food truck and 18' trolley.
Auntie Anne's Pretzels opened in 1990, started franchising in 1991 and has an estimated 1,945 locations. They "bring their homemade happiness" to fans with their food trucks. They take their trucks and concession trailers to events on college campuses, parks, fundraisers, and school rallies. They have over 10 food trucks and concession trailers. On their Auntie Annie's Franchising website, they offer food trucks as a "venue" opportunity.
"Auntie Anne's® president, Heather Neary, discusses the benefits: 'There's a lot less investment up front in a good truck versus building out a traditional brick and mortar space. Then when you're going to a food truck event, you're able to only open when you're actually busy.'"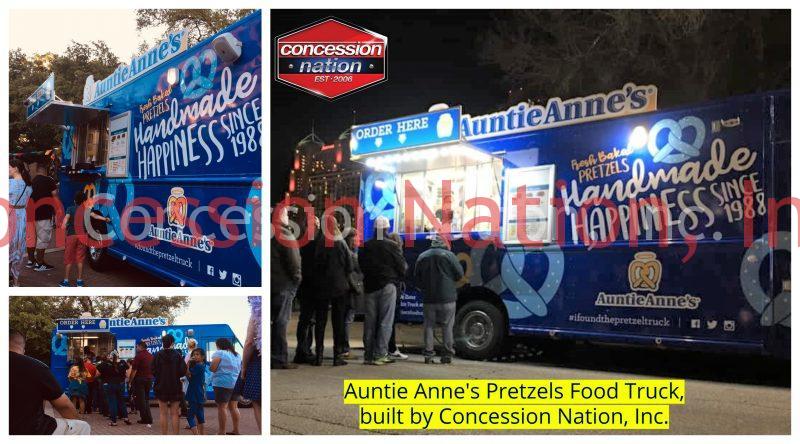 Pizza Hut reached out to Concession Nation in 2014 to build their first food truck (custom 18-foot) – the WingStreet Wagon. At the 141st Kentucky Derby, "Pizza Hut's Mobile Trailer and WingStreet food truck broke sales records". This one-day event, also broke records, with a 170,513 people in attendance. The WingStreet captain and a team of ten, drove from Dallas to Kentucky to serve non-stop, "full-on demand rush" with great success. In addition to the historic event that a brick and mortar could not attend without a food truck, they visit local community events, breweries and local area college campuses.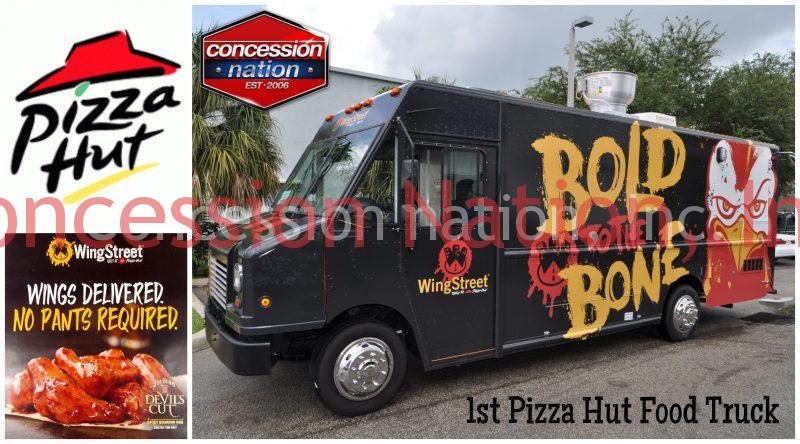 SweetFrog Premium Frozen Yogurt opened in 2009, started franchising in 2012 with an estimated 270 locations. They are offering food trucks and concession trailer as a franchise option for location.
"SweetFrog's CEO, Patrick Galleher, says the company is proving its commitment to non-traditional franchising by making the food truck and trailer a full franchising opportunity – a primary catalyst fueling the franchise system's recent franchise development success."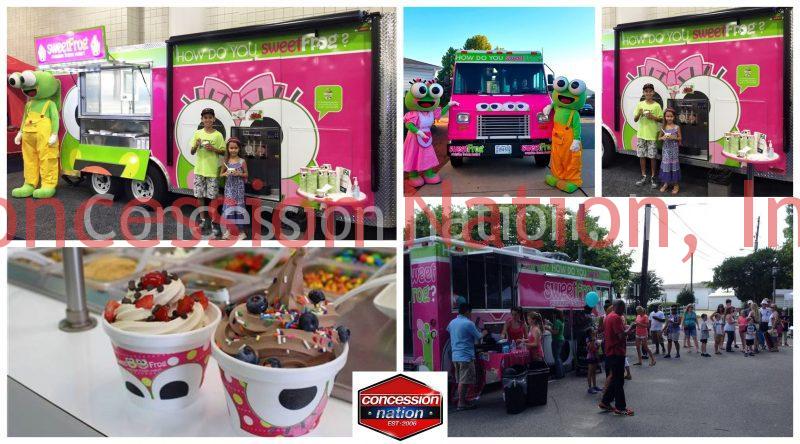 In addition to the above franchises, others have added food trucks and/or concession trailers including but not limited to:
Starbucks
Quiznos Subs
Waffle House
Dairy Queen
Golden Corral
Bennigans
CiCi's Pizza
Acai Express
Texas Roadhouse
Beavertails
Sonny's BBQ
And more.
Click here to see the Gallery for Franchises
Get More Franchisees – Offer Food Trucks & Concession Trailers as an Option
Offering either a food truck or a concession trailer as an option for a location, is a more affordable start-up costs compared to the cost of a brick and mortar. It makes it easier for people to say "yes" to your franchise offer. Additionally, your corporate branding is on the move – driving to local events, offering catering and expanding your reach. Food trucks for sale and concession trailers are a win-win for you and your franchisees.
Concession Nation has expertly designed food trucks and
concession trailers for a variety of businesses. Let us design your food truck.
Call us at 888-390-4479
References:
https://www.entrepreneur.com/franchises/charleysphillysteaks/282190 
https://www.qsrmagazine.com/exclusives/charleys-hopes-600-locations-one-milestone-many
https://www.franchisedirect.com/foodfranchises/auntie-annes-pretzels-franchise-07104/ufoc/
https://auntieannesfranchising.com/venue-variety/
https://www.si.com/horse-racing/2015/05/02/kentucky-derby-2015-attendance-record
http://blog.pizzahut.com/pizza-hut-and-wingstreet-feed-crowds-in-kentucky/
https://www.franchisedirect.com/foodfranchises/sweetfrog-premiere-frozen-yogurt-franchise-12635/ufoc/
https://sweetfrog.com/community/view/sweetfrog-frozen-yogurt-launches-newest-mobile-truck-in-fort-worth-texas