Summary:
Are you a backyard grilling master? Is your BBQ second to none? It may be time to take your skills and put them to use in a new BBQ business. You do not have to resort to an expensive restaurant to market your abilities. You have other options! Use a food truck or BBQ concession trailer or attach your equipment to your truck or trailer to create a BBQ smoker trailer that is sure to turn heads. Or maybe you want to just win some prize money by participating in regular barbeque contests. The choice is yours!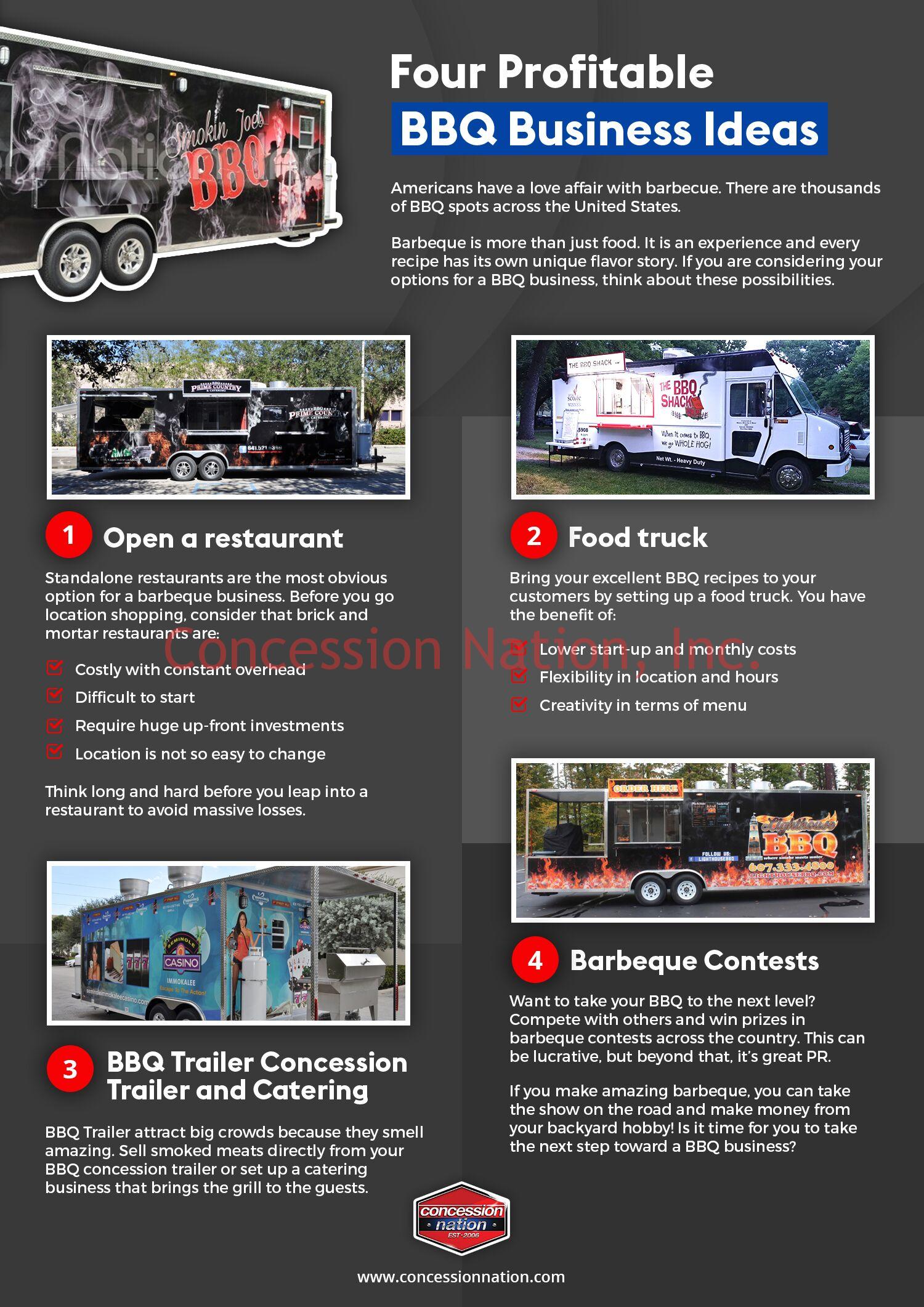 Americans have a love affair with barbecue. There are thousands of BBQ joints across the United States.
Barbeque is more than just food. It is an experience and every recipe has its own unique flavor story. If you are considering your options for a BBQ business, think about these possibilities.
1. Open a Restaurant
Standalone restaurants are the most obvious option for a barbeque business. Before you go location shopping, consider thatbrick and mortar restaurants are:
Costly with constant overhead
Difficult to start
Require huge up-front investments
Location is not so easy to change
Think long and hard before you leap into a restaurant to avoid massive losses.
2. Food Truck
 Bring your excellent BBQ recipes to your customers by setting up a mobile food truck. You have the benefit of:
Lower start-up and monthly costs
Flexibility in location and hours
Creativity in terms of menu
3. Portable Smoker: Concession Trailer and Catering
Portable smokers attract big crowds because they smell amazing. Sell smoked meats directly from your BBQ concession trailer or set up a catering business that brings the grill to the guests.
4. Barbeque Contests
Want to take your BBQ to the next level? Compete with others and win prizes in barbeque contests across the country. This can be lucrative, but beyond that, it's great PR.
If you make amazing barbeque, you can take the show on the road and make money from your backyard hobby! Is it time for you to take the next step toward a BBQ business?
Contact us for info on how we can help.