Custom Food Trailers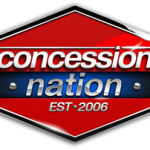 The food industry is booming with a lot of food businesses- fancy restaurants, cozy coffee shops, and now custom food trailers are also on the rise. Mobile diners and restos are almost always present during fairs and other big gatherings such as sports events. They are also commonly found in parks, stadiums and other public places. These catchy mobile diners usually have very alluring exterior designs to catch the attention of buyers.
One of the positive attributes of the custom food trailers as a form of business is that the mobile diners are very easy to manage. The owners do not need to have a lot of people to work in the diner. In addition, the owners can also decide to open and close the mobile diner depending on the time they want. The mobile food business offers so much independence to the owners.
First-Rate Custom Food Trailers from Concession Nation, Inc.
Concession Nation, Inc takes pride in being one of the best manufacturers of custom food trailers. Other than concession trailers, they also manufacture huge food trucks. The company has been in this kind of business for nearly nine years, and in these nine years, they have worked hand-in-hand with mobile food entrepreneurs to make their mobile diners businesses materialize.
One of the secrets behind the success of the company is the kind of people that they have. The crew members are all proficient and hardworking. They are in-love with their work, and this helps a lot in their relationship with the clients. They address every single concern that the clients have. And so with all these, interested entrepreneurs know that the best company to order custom food trailers is Concession Nation, Inc.
Safe, Durable & Unique Food Trailers
It is imperative to consider three things in buying food trailers for business- safety, durability, and design. They must be equipped with safety devices and must also be made of quality materials to ensure durability. Catchy exterior designs are also important to draw are customers. Get the best food trailers from Concession Nation, Inc.