Concession Trailer Water System Operating Tips
Summary:
When owning concession trailers, you want to protect and maintain the water system for proper use.  If you are in a cold-weather state, you'll want to make sure to weatherize your system like you would your home's plumbing or a recreational vehicle.
Concession Nation offers training videos on how their custom-built concession trailers for sale water system work.  They check the water system before your trailer leaves their facility.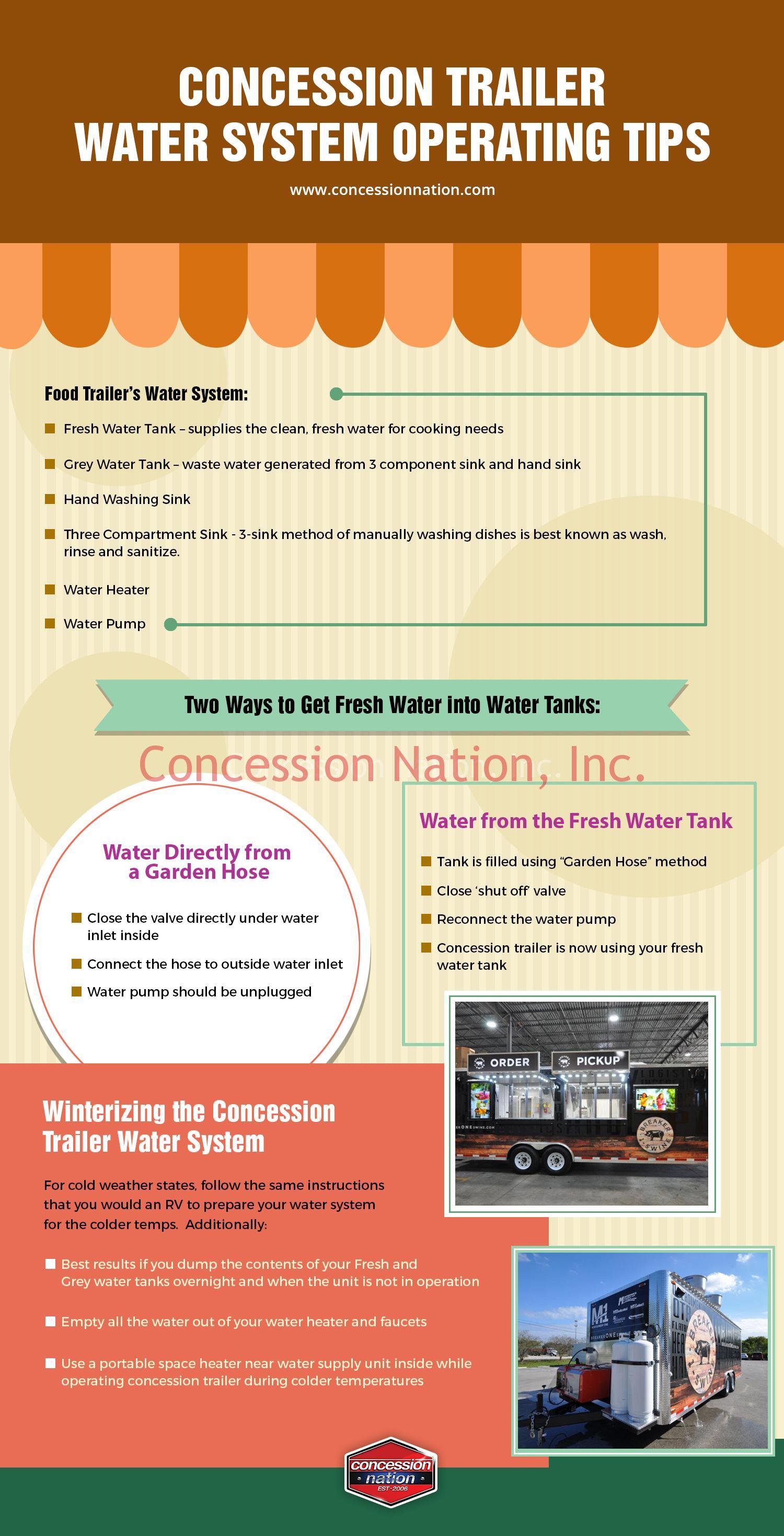 Food Trailer's Water System
Fresh Water Tank – supplies the clean, fresh water for cooking needs.
Grey Water Tank – waste water generated from 3 component sink and hand sink
Hand Washing Sink
Three Compartment Sink – 3-sink method of manually washing dishes is best known as wash, rinse and sanitize.
Water Heater
Water Pump
Two Ways to Get Potable Water into Sinks:

1. Water Directly from a Garden Hose
Close the valve directly under water inlet inside
Connect the hose to outside water inlet
Water pump should be unplugged
2. Water from the Fresh Water Tank
Tank is filled using "Garden Hose" method
Close 'shut off' valve
Reconnect the water pump
Concession trailer is now using your fresh water tank
Winterizing the Concession Trailer Water System
For cold weather states, follow the same instructions that you would an RV to prepare your water system for the colder temps.  Additionally:
Best results if you dump the contents of your Potable and Grey water tanks overnight and when the unit is not in operation
Empty all the water out of your water heater and faucets
Use a portable space heater near water supply unit inside while operating concession trailer during colder temperatures
Looking for your own concession trailer? Call Concession Nation at 888-390-4479 and let their knowledgeable team create the best suited trailer for your business today!
https://concessionnation.com/learn/product-details/water-system/