Here's the story of how we helped two national baseball teams design and develop customized concession trailers.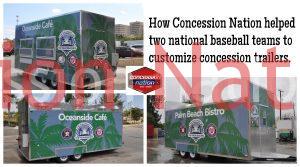 It was a long, 56-season wait for the Houston Astros world series win in 2017. It was unquestionably a good year for the team. Of course, as the 2017 National League East Champions, the Washington Nationals did not have a rough season themselves.
To gear up for the 2018 season, both the Houston Astros and the Washington Nationals had training at the Ballpark of the Palm Beaches, one of the newer facilities in the West Palm Beach area. Training was expected to go through the last week in March.
The teams wanted to capitalize on the training season by providing concessions to both players and fans. They needed a new customized concession trailer to do so.
Customized Concession Trailers Create a Fun Atmosphere for Fans
Fans love to come to spring training because it sets the stage for a new, successful season. The atmosphere has a sense of excitement and anticipation. Now they could enjoy fan-themed concession trailers to complement the experience.
Both teams did very well in 2017, so they wanted to capitalize on that success and encourage continued fan support in the upcoming 2018 season. They chose to create team-centered trailers just for spring training. This goes a long way for the marketing value of the teams.
The Creation Process
Both teams worked with Stafford Smith, Inc. (http://www.staffordsmith.com/) to find concession trailers for sale. Stafford Smith is a third-party dealer that works with Concession Nation to provide trailers that fit the customer's unique needs. They ultimately purchased two trailers that are 8 feet x 20 feet from Concession Nation. They are a great size for the teams' customer base.
Stafford Smith reached out over the phone initially. They also did a site visit of Concession Nation to get a feel for exactly what types of concession trailer would be the best fit for their needs. This personalized visit is in line with Concession Nation's family-style approach to concession trailer sales. Concession Nation tries to develop a connection and friendship with their clients. This relationship helps them create a solution for exactly what their client needs.
Visit the Palm Beach Bistro at the Ballpark of the Palm Beaches!
Today, you can visit these custom-made concession trailers during spring training. Concession Nation is proud to be even a small part of spring training 2018 at the Ballpark of the Palm Beaches!