Todd Bossier is founder and owner of Basin Bayou (https://www.basin-bayou.com). Originally from New Orleans, Louisiana, Bossier opened his Texas catering business in 2014. This family style caterer, specializing in lunch and dinner catering, offers authentic Louisiana Cajun/Creole flavor to the Permian Basin in southwestern Texas.
"We started out with basically a cook-out trailer," remarked Bossier, "but our ultimate goal was to build on our success with the crawfish side of the business and offer an everyday cuisine of jambalaya cooking that would include a seafood pizza."
Once they were ready for their first fully-loaded concession trailer, the next step was locating a concession trailer manufacturer that fulfilled all of their needs.
"We looked at several companies throughout Texas, New Mexico, California and a few in Florida," said Bossier, "but just wasn't satisfied. It was a tedious, long process to figure out who we wanted to use."
After several months of looking for the right concession trailer manufacturer, Bossier found the Concession Nation website (http://www.concessionnation.com). One of the things they liked about Concession Nation was that, like Basin Bayou, there was a family style of camaraderie between Concession Nation representatives and their customers, as well as their ability to completely fulfill Bossier's vision.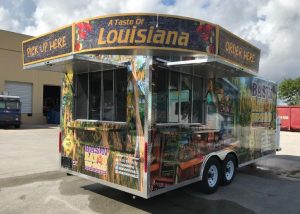 Bossier decided on an 8 x 22-foot trailer, and Concession Nation would do the graphic designs, ensuring Basin Bayou concession trailer had that unique and captivating look for their business.
Once the order was placed, it took a little under five weeks to receive the trailer shell from the manufacturer. After it was received by Concession Nation, the rest was completely done in-house at their 30,000 sq. ft. facility in Deerfield Beach, Florida. It took only three days to build the trailer. Only brand name, stainless steel, and NSF-approved equipment and appliances were installed with high quality materials used throughout.
Concession Nations built everything to the code and regulations for the state of Texas. They then had all LP equipment tested and certified by a state licensed third party, and health inspections were completed with 100 percent approval.
After the trailer construction was completed, their graphic designers took another week to complete the designs, have them printed, and then installed.
It took a total of six weeks to complete the entire project from the time of deposit. A concession trailer like this one costs between $75,000 and $80,000.
Afterward, Bossier traveled to Deerfield to inspect and pick up his brand new, fully-loaded trailer, and drive it home to Texas.
"The quality and craftsmanship is just unbelievable," an emotional Bossier stated.
"It is just more than I expected. It really is. Truly beautiful."
Bossier's next vision is to purchase another fully-loaded concession trailer in the future and expand into the eastern part of Texas.