FOAR (FREEDOM ON A ROLL) is a Food truck built by Concession Nation in 2013, owned and operated by our customer Rick Massa. At the time Rick had recently relocated from New York to Plantation, FL.
He was toying with the idea of buying a food truck. Although like most newbie's he was not entirely sold on the idea. 
He was completely green when it came to the Concession Food Truck Industry. He was filled to the brim with curiosity. His path led to our door here at Concession Nation in Florida. When the phone rang and it was Rick we knew we could expect tons of questions regarding every aspect of the food truck industry. Honestly Rick was quite skeptical and an ex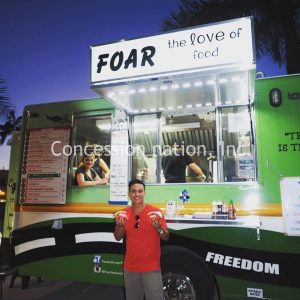 pert at playing the devil's advocate. We could sense that his wife was on the fence,  so suffice it to say he had some convincing to do. His "pessimistic" approach was actually part of his process. We asked Rick, What are you going to serve? Rick replied: hmmm…breakfast food (kind of vague).
Where will you be setting up? Not sure he said. We felt compelled to help, so we gave him the contacts of few of our clients that could offer some direction. He was determined to find answers to every question he had and he would not settle until the answers were found. We share this as we are certain there are readers out there that may be asking themselves if they can pull this off.  Our answer is absolutely!! If Rick can do it, so can you.  
Here's why: Rick possessed determination to tackle this unknown territory.
While we were building his customized food truck Rick would visit often to see how things were taking shape. Every time he stopped by Concession Nation we could sense a bit more confidence in him and the process. He had now selected a name for his business and graphic concept which in hindsight is so fitting for what has become his personal journey. The name FOAR was selected along with the company's mantra "Trying New Food Is the Quickest Way to Travel." Rick's concept was to introduce an array of ethnic inspired breakfast dishes.
FOA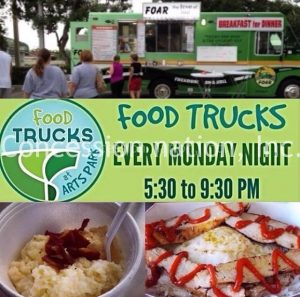 R Food Truck has not left any stone unturned! 
Where haven't they been??? It wasn't long before Rick hit the road running. In no time FOAR appeared on a local news station which featured what became his claim to fame, the Paco. The Paco is a pancake shaped like a taco packed with a number of breakfast fillings. Showing up at a local news station and offering breakfast is quite a clever marketing move. Rick also took Social Media by storm. Check out his Facebook page and see for yourself.
Promote, Promote, Promote!
He did just that, Rick was driven and promoted his business like a Boss! You must have a hunger to succeed. FOAR showed up at event after event. You name it FOAR has been there.  Rick's truck can be found in the center fold of Lee Schrager's new book Americas Best Breakfasts. Rick was once a novice now turned pro! Rick can now be considered an expert in his field! Once Green with inexperience now his pockets are lined with green. Let Rick's story be a lesson to you. You Too Can Do It! Concession Nation is vested in your investment.