With the food truck industry booming and the trends not showing to slow down anytime soon, there are so many new trucks hitting the road.  So just how does a new food truck stand out from the pack?
Here are the six ways to successfully attract customers to your food truck:

1. Catch the Eye
Food truck explosion events means a lot of food trucks vying for the attention of customers.  Your food truck should quickly show the crowd your branding, your food and get the eyes focused on your business.  You can achieve this goal by one of two ways:
Graphics only – adding graphics to a truck painted with your branded colors
Custom Design Wrap – professionally designed wraps that uses the entire vehicle
Let your designs pop and your words describe your food so well that their mouths water.
2. Easy to Spot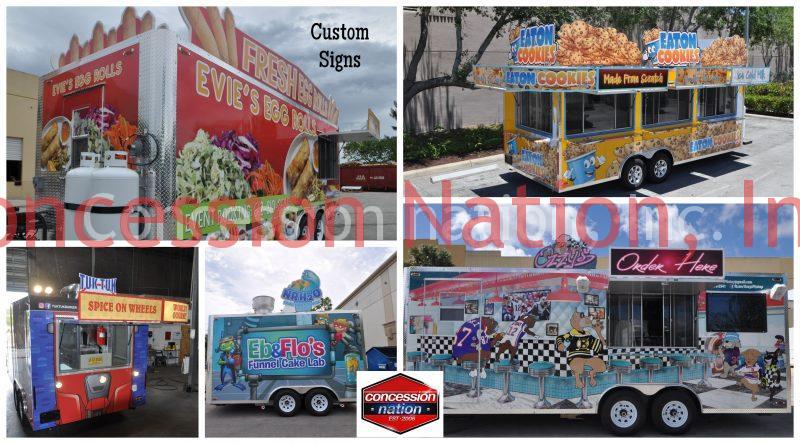 Signage.
Go beyond the truck's graphics and design.  Add highly visible signage that becomes your visual commercial for attracting customers.  On your truck and standalone signs on the ground, continue to spread your branding, spotlight the food, and announce your specials.  Signs are a valuable marketing tool for a successful food truck owner.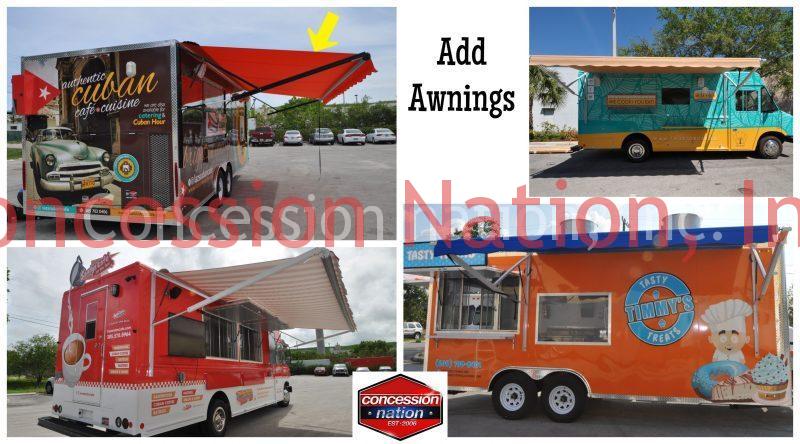 Awnings.
When parked on the side of the road during a crowded lunch rush hour, expanding your highly branded awning can quickly capture the eyes of those walking near your truck.
3. Treat Customers Like Family
Offer them a seat at the table and seating with umbrellas adds more opportunities to market your business.  You're offering more than just great food; you're offering a great experience.  Adding seating increases revenue for food trucks, especially if your food isn't "grab and go".
Don't forget a trash can to keep the area clean.

4. Food on Display
Let the food decision process be simple and easy for customers.  Menu boards and displays are your favorite employee.
Menu boards, placed for everyone to read easily, should include graphics and text listings of your food items.  Include which items can be customized and don't forget to note any common food allergy ingredients. Create an extra eye-catching element by using a digital board.
Your food sells itself, so let it.  Display your main dish for everyone to see.  Display cases let people see the quality of the dish, show a completed meal or even add up-sell/add-on purchase options to tempt customers as they order.

5. Night Lights
When the lights go down, many food trucks keep going. The dinner hour and the after-bar hour crowds can add to the bottom line – if they can see you.  Lights are a night-time food truck's best friend.  They illuminate your presence, your brand and your food.  There are several ways you can use lights to attract the after-dark crowd.
Food truck light ideas:
Around the truck itself
Undercarriage lighting
Light up menu boards and signage
Channel letter lighting
String patio lights from your awning, seating umbrellas and nearby trees
Use color and movement (blinking or running lights) to get attention
6. Adding Pizzazz
Go beyond average by offering speakers for announcements and music – permit allowing. Create an atmosphere around your food truck and let your diners enjoy their food with music, comedy, maybe, and announcements, too.
Lastly, adding a television takes your food truck to a whole new level. External televisions can be used to showcase images of your food – how about videos of your food concept, as a menu board or to display branding.
You want to attract customers; you must create something that grabs the eyes.  Design, lights, adding a valuable experience beyond the food all call out to increase your bottom line.
Concession Nation has expertly designed food trucks and
concession trailers for a variety of businesses.  Let us design your food truck.
Call us at 888-390-4479