5 Things Food Truck Owners Should Focus on in 2019
Summary:
If you are looking to significantly improve your food truck business in 2019, there are a few areas that you should focus. Homing in on specific goals and improvements will help you make real, beneficial progress toward your personal and business goals.
This infographic provides some quick suggestions on focus areas for food truck owners to consider this year. Get the process started by watching this short clip—and if you want to find a food truck for sale, Concession Nation – https://concessionnation.com – has you covered.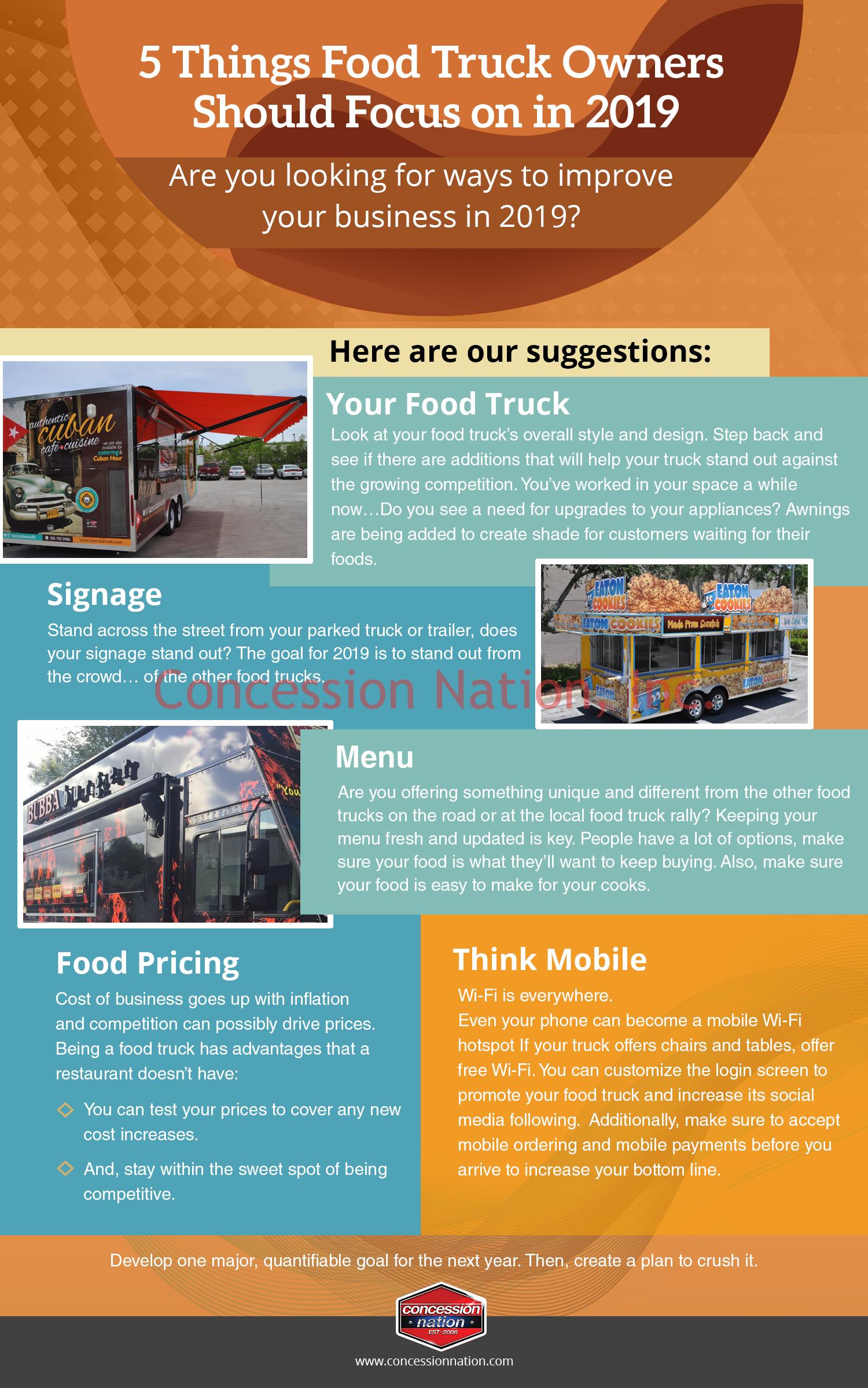 Are you looking for ways to improve your business in 2019?
Here are our suggestions:
1. Your Food Truck

Look at your food truck's overall style and design.
Step back and see if there are additions that will help your truck stand out against the growing competition.
You've worked in your space a while now…

Do you see a need for upgrades?
For example, awnings are being added to create shade for customers waiting for their foodsand TVs provide an interactive menu.

Does your signage stand out?
2. Marketing
Make sure you are posting to your social media accounts when your truck is open for business. Post about your location and photos of your food, staff and happy customers.
Have you created an SMS Text list for sending out texts of where you'll be and announcing special event locations?
Tap into live video on several platforms like YouTube, Facebook, Instagram & Snapchat.
3. Menu
Are you offering something unique and different from the other food trucks on the road or at the local food truck rally?
Keeping your menu fresh and updated is key.
People have a lot of options, make sure your food is what they'll want to keep buying.
Also, make sure your food is easy to make for your cooks.
4. Food Pricing
Being a food truck has advantages that a restaurant doesn't have:

You can test your prices to cover any new cost increases.
And, stay within the sweet spot of being competitive.
5. Think Mobile

Wi-Fi is everywhere.
Even your phone can become a mobile Wi-Fi hotspot.
If your truck offers chairs and tables, offer free Wi-Fi.
You can customize the login screen to promote your food truck and increase its social media following.
Additionally, make sure to accept mobile ordering and mobile payments before you arrive to increase your bottom line.